New Horizons

Welcome to my website! 2016 is the start of many new artistic ventures that will be revealed in due course. Please do visit this page often or scroll down the page to subscribe to my email database for updates.
'The Car and Other Plays'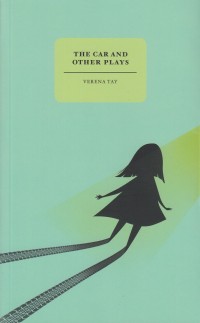 Announcing the publication of The Car and Other Plays by Math Paper Press -- three of my plays curated into a special publication that is being included in the Ministry of Education's list of recommended texts for the Lower Secondary School English Literature syllabus from 2017 onwards...
The three plays in this collection comprises: my award-winning 'The Car', 'Queen Sophia & That Dog Buster', and 'Imperfect Family Recipes'.
It retails at SGD15.00 and is of course sold at BooksActually (9 Yong Siak Street).
Calling all teachers of Lower Secondary English Literature!!! Do get your copy as soon as possible so that you can make the decision of whether or not to use this text in 2017. This is a unique collection of plays just created for you in mind. The three plays are highly accessible and with family-centred themes. Moreover, BooksActually/Math Paper Press will publish a learning resource guide that will be made available online come January 2017.
Readings from / Singapore launch of 'Heat', 'Flesh' and 'Trash'
Everyone is invited to:
A) Readings from 'Heat', 'Flesh' & 'Trash'
Fri 9 Sep, 7 to 8 pm
Booktique
(My story, 'The Sensualist', appears in Flesh.)
B) Singapore launch of Heat, Flesh & Trash
Sat 17 Sep, 2 to 2.45 pm
Kinokuniya (Ngee Ann City)
See you all there!
Launch of 'This is Not a Safety Barrier'
You are invited to the launch of This Is Not A Safety Barrier on Sat 17 Sep, 6 to 7.30 pm, @ The Projector. Published within this book is 'Privacy', my poetic response to a photo by Jon Gresham. See you all there!
My recent online presence
Joanne Furniss interviewed me about my memoir writing workshops. Please click here to read the interview.
'The Truth About Mr X: 2015' is now in Junoesq Literary Journal, Issue 5, Aug 2015.
To read Agnes Lam's review of my book, Spectre: Stories from Dark to Light, that appears in the June 2015 issue of the Asiatic journal, please click here.
If you wish to listen to me read an excerpt from my short story, 'Fast Food, 1979: Portrait of an Old Lady', please click here. Women For the Record, a series of 50 videos featuring poetry, prose and playwriting by women from Singapore, is a collaboration between Hedgebrook and EtiquetteSG.
'Dawn' is published in Ducts, Issue 34, Winter 2015.
My books online
My short stories, plays and edited anthologies can now be purchased online as follows:
All URLS are correct as of 9 Sep 2016.