2016: A Year of New Beginnings

Welcome to my website! 2016 is the start of many new artistic ventures that will be revealed in due course. Please do visit this page often or scroll down the page to subscribe to my email databasefor updates.
My Life, My Story: Memoir Writing Workshop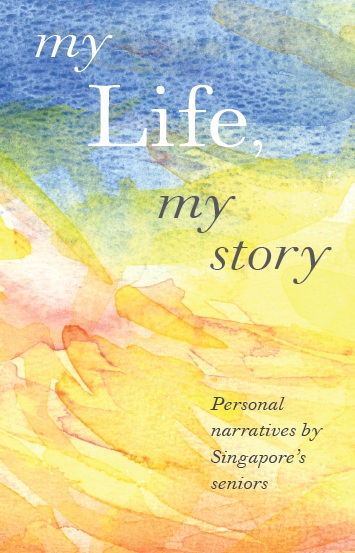 Last year, I conducted a memoir writing workshop-cum-editing process on behalf of the National Library Board that led to the publication of the chapbook, entitled My Life, My Story: Personal Narratives by Singapore's Seniors, launched during Read! Singapore 2015. NLB has invited me to conduct another workshop that will take place between on Monday afternoons between 22 Feb to 28 Mar 2016 at Bishan Library. Registrations have closed for the workshop.
Speakeasy: Valentine's Edition
Come listen to me and eleven other artists read our favourite love poems on Fri 12 Feb 2016, 8 pm, at Artistry (17 Jalan Pinang). Tickets available at S$10/pax.
For more information, please visit: https://www.facebook.com/events/1695559330726115/
To book tickets: http://speakeasy.peatix.com/
Janet Furniss interviewed me about my memoir writing workshops. Please click here to read the interview.
To read Agnes Lam's review of my book, Spectre: Stories from Dark to Light, that appears in the June 2015 issue of the Asiatic journal, please click here.
If you wish to listen to me read an excerpt from my short story, 'Fast Food, 1979: Portrait of an Old Lady', please click here. Women For the Record, a series of 50 videos featuring poetry, prose and playwriting by women from Singapore, is a collaboration between Hedgebrook and EtiquetteSG.
Short stories published online
'The Truth About Mr X: 2015' is now in Junoesq Literary Journal, Issue 5, Aug 2015.
'Dawn' is published in Ducts, Issue 34, Winter 2015.
'Verdict' appears in Junoesq Literary Journal, Issue 1, Aug 2014.
'The Building' can be found in the Oct 2013 issue of Quarterly Literary Review Singapore.
The full text of 'Fast Food, 1979: Portrait of an Old Lady', has been re-published in the Writers' Hub website run by Birbeck College, London.
My books online
My plays and short stories and edited anthologies published by Math Paper Press (In the Company of Heroes, Victimology, Spectre: Stories from Dark to Light, Balik Kampung, Balik Kampung 2A: People and Places, Balik Kampung 2B: Contemplations) can now be purchased online as follows:
- BooksActually: In the Company of Heroes
- BooksActually: Victimology
- BooksActually: Spectre
- BooksActually: Balik Kampung
- BooksActually: Balik Kampung 2A
- BooksActually: Balik Kampung 2B