2015: A Year of Celebration

There's much to celebrate in 2015: the 50th anniversary of the founding of the Republic of Singapore, my 5oth year, my receiving of an MFA in Creative Writing (Fiction) from the City University of Hong Kong, amidst other things. As the year draws to a close, I will be participating in several events of the Singapore Writers Festival 2015. Join me if you can!
Words Over Water: A Celebration of the Singapore River and Marina Bay through Singaporean Writing
For Singapore Writers Festival 2015, I've curated a series of texts - both poetry and prose; in English, Mandarin, Malay and Tamil (including English translations) - that respond to the landscape of the Singapore River and Marina Bay. So if you fancy enjoying a leisurely boat ride and listening to Singapore writing, do get tickets for this event.
You will be listening to the words of: Yeo Bock Cheng, Yong Shu Hoong, Suchen Christine Lim, Latha, Des Sim, Nan Zi, Rick Buck Song Koh, Arthur Yap, Eric Valles, Roger Jenkins, Liang Yue, Marc Nair, Genevieve Wong, Isa Kamari, Edwin Thumboo, Cyril Wong (Cy Rai), Heng Siok Tian, Joshua Ip, Lee Tzu Pheng, K. T.M. Iqbal, Mohamed Latif Mohamed, Daren Shiau, Zhou Decheng.
Because of the size of the River Explorer boat that we will be boarding, tickets are limited. Please book soon to avoid disappointment.
Readers: Verena Tay, Michael Cheng, Durgah Devi Palanisamy, Ghazali Muzakir
Sat 31 Oct 2015
- Tour A: 5 to 6.30 pm
- Tour B: 7.30 to 9 pm
Embarkation Point: River Explorer Stand, UOB Centre
Tickets are $18 for adults and $10 for children. Tickets available at the Singapore River Explorer ticketing booth located at Raffles Place Jetty from 19 October.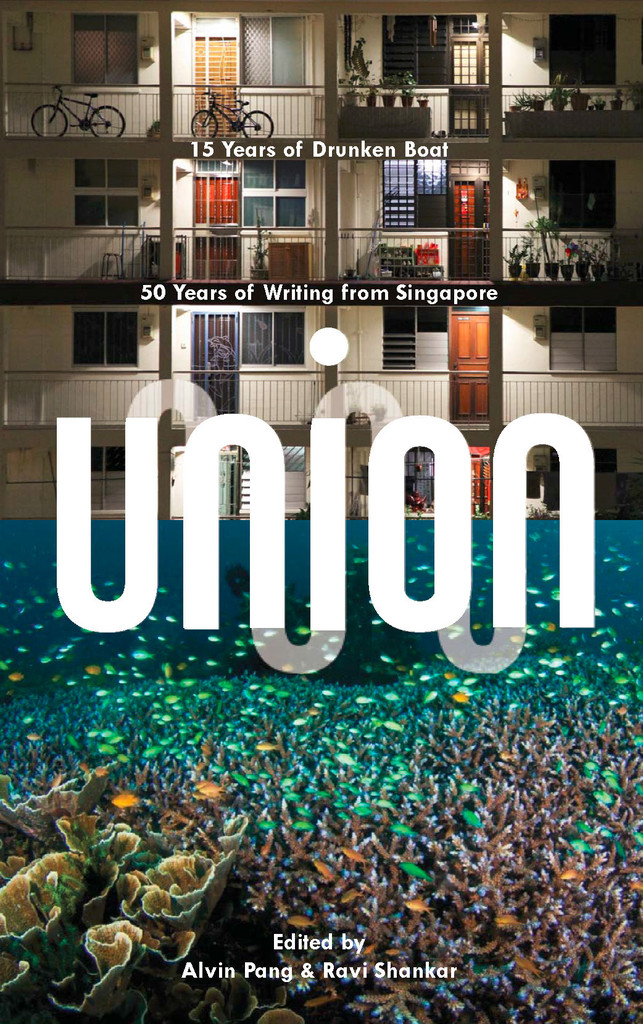 My story, 'Fast Food 1979: Portrait of an Old Lady', has been included in Union, a ground breaking anthology commemorating both 15 years of Drunken Boat's inception and 50 years of Singaporean independence and literary endeavour. A collaborative effort between America's online international poetry journal Drunken Boat and Singapore publishing stalwart Ethos Books, Union is a creative conversation between two communities hailing from opposite ends of the geopolitical scale. Edited by Drunken Boat's Ravi Shankur and eminent Singapore poet Alvin Pang, Union celebrates the rich constellation of shared nuances between both places, exploring the boundaries, the liminal and even the antithesis of the ways that connect us.
Organised by: Singapore Writers Festival 2015
Date/Time: Sun 1 Nov 2015, 2:30 to 3:30 pm
Venue: British Council Gallery, The Arts House
Free
For more information about the launch: Please click here.
To purchase the book: Please click here.
''Our Lives, Our Stories'': Panel Discussion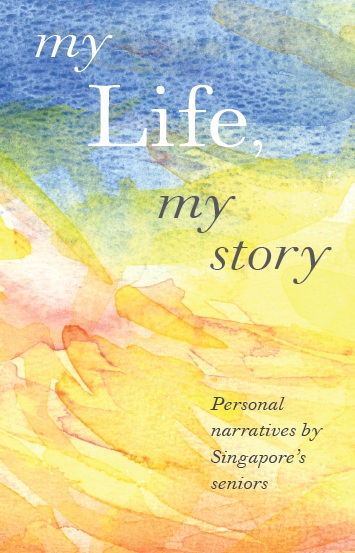 Earlier this year, I conducted a memoir writing workshop-cum-editing process on behalf of the National Library Board that led to the publication of the chapbook, entitled My Life, My Story: Personal Narratives by Singapore's Seniors, launched during Read! Singapore 2015. Now I will be moderating a panel discussion comprising four contributors to the chapbook. If you wish to get a glimpse into childhood from bygone days and intriguing family histories from four seniors as the nation celebrates its golden birthday, please attend this session.
Organised by: Singapore Writers Festival 2015
Featured Writers: Wong Swee Fong, Anne Lim, Yap Swi Neo, Shamimah Mujtaba
Date/Time: Sat 7 Nov 2015, 10 to 11 am
Venue: U.S. Embassy Screening Room, The Arts House
Festival Pass Event - To get a pass and for more information of this event, please click here.
To read Agnes Lam's review of my book, Spectre: Stories from Dark to Light, that appears in the June 2015 issue of the Asiatic journal, please click here.
WOMEN FOR THE RECORD #5 // "An Excerpt from Fast Food, 1979"
If you wish to listen to me read an excerpt from my short story, 'Fast Food, 1979: Portrait of an Old Lady', please click here. Women For the Record, a series of 50 videos featuring poetry, prose and playwriting by women from Singapore, is a collaboration between Hedgebrook and EtiquetteSG.
Short stories published online
'The Truth About Mr X: 2015' is now in Junoesq Literary Journal, Issue 5, Aug 2015.
'Dawn' is published in Ducts, Issue 34, Winter 2015.
'Verdict' appears in Junoesq Literary Journal, Issue 1, Aug 2014.
'The Building' can be found in the Oct 2013 issue of Quarterly Literary Review Singapore.
The full text of 'Fast Food, 1979: Portrait of an Old Lady', has been re-published in the Writers' Hub website run by Birbeck College, London.
My books online
My plays and short stories and edited anthologies published by Math Paper Press (In the Company of Heroes, Victimology, Spectre: Stories from Dark to Light, Balik Kampung, Balik Kampung 2A: People and Places, Balik Kampung 2B: Contemplations) can now be purchased online as follows:
- BooksActually: In the Company of Heroes
- BooksActually: Victimology
- BooksActually: Spectre
- BooksActually: Balik Kampung
- BooksActually: Balik Kampung 2A
- BooksActually: Balik Kampung 2B